Club Officers
Club Advisor
Jill Kubiesa
I love the outdoors and climbing. My favorite part is getting to know others through the sport and being able to be a resource to help people grow in all areas of climbing. I also get to learn a lot from others about my own climbing and who I am. I have been a part of Hoofer Mountaineering since 2016 as the advisor. My role includes mentorship, education, executive board support, instruction, and working with students and community members to be stronger climbers mentally, technically, and physically. I am often available to "talk shop" about anything climbing or life related. Meeting and getting to know the community is my favorite part of my position.
President
Peter Matthews
Hi there 👋! I'm Peter Matthews and I'm going into my fourth year studying Computer Science, Math, and Physics. I joined Mountaineering my freshman year and have been climbing for four years now. I consider myself to be two parts gumby gym rat and one part trad dad. I started climbing in high school at Adventure Rock in Brookfield, WI. Since then, I've climbed in Yosemite, Red River Gorge, Jackson Falls, and all over Wisconsin. In my mind, there's nothing cooler than walking up to a huge rock face with only climbing gear and ending the day on its summit. Nowadays, I climb mostly at downtown Boulders and find every excuse I can to get to Devil's Lake. If you see me around campus or at the climbing gym, don't be a stranger! Also, if you're looking to learn more about climbing in Madison or Mountaineering Club, don't hesitate to shoot me an email!
Climbing Team Director
Claire Taubman
Hi! I'm Claire, and this will be my third year as a part of Hoofers Mountaineering. I started as a Team member, then rose to Team Director my second year and I'm continuing as Team Director this year. I was a part of a climbing team all throughout high school, which is why I'm so passionate about it here at UW-Madison. I love competing and plan on bringing our team to several competitions this year as COVID restrictions lift. In my opinion, team environments make it so much easier to stay committed to working out regularly and also to get better at climbing in general. If you have any questions about Hoofers Climb Team or climbing in general, feel free to reach out at team@hoofermountaineering.org !
Communications Chair
Michael Wolfe
Hello! I'm your HMC communications chair (read out to me! communication@hoofermountaineering.org) and entering my fourth year as a Physics PhD student. Before Madison, I was at University of Maryland Baltimore County where I studied Physics, Math, and Music, snagging guest passes at Earth Treks whenever I had the chance. I started taking climbing seriously about two years ago and joined Hoofers last year. I frequent Boulders East, traveling to crags all over the country in my soccer-mom minivan (shoutout to Vanny Jr.), and occasionally being "that guy" with his guitar around the Miguel's Pizza campfire at the Red.
Education Chair
Ben Haas
Hi my name is Ben Haas. I am a senior studying chemical engineering, and I have been apart of the club for the last three years. I started climbing my freshman year and fell in love with it. The last three summers, I worked as a climbing instructor at a summer camp, so I am super excited as Education Chair to pass along the skills I have learned from the last three years.
Events Chair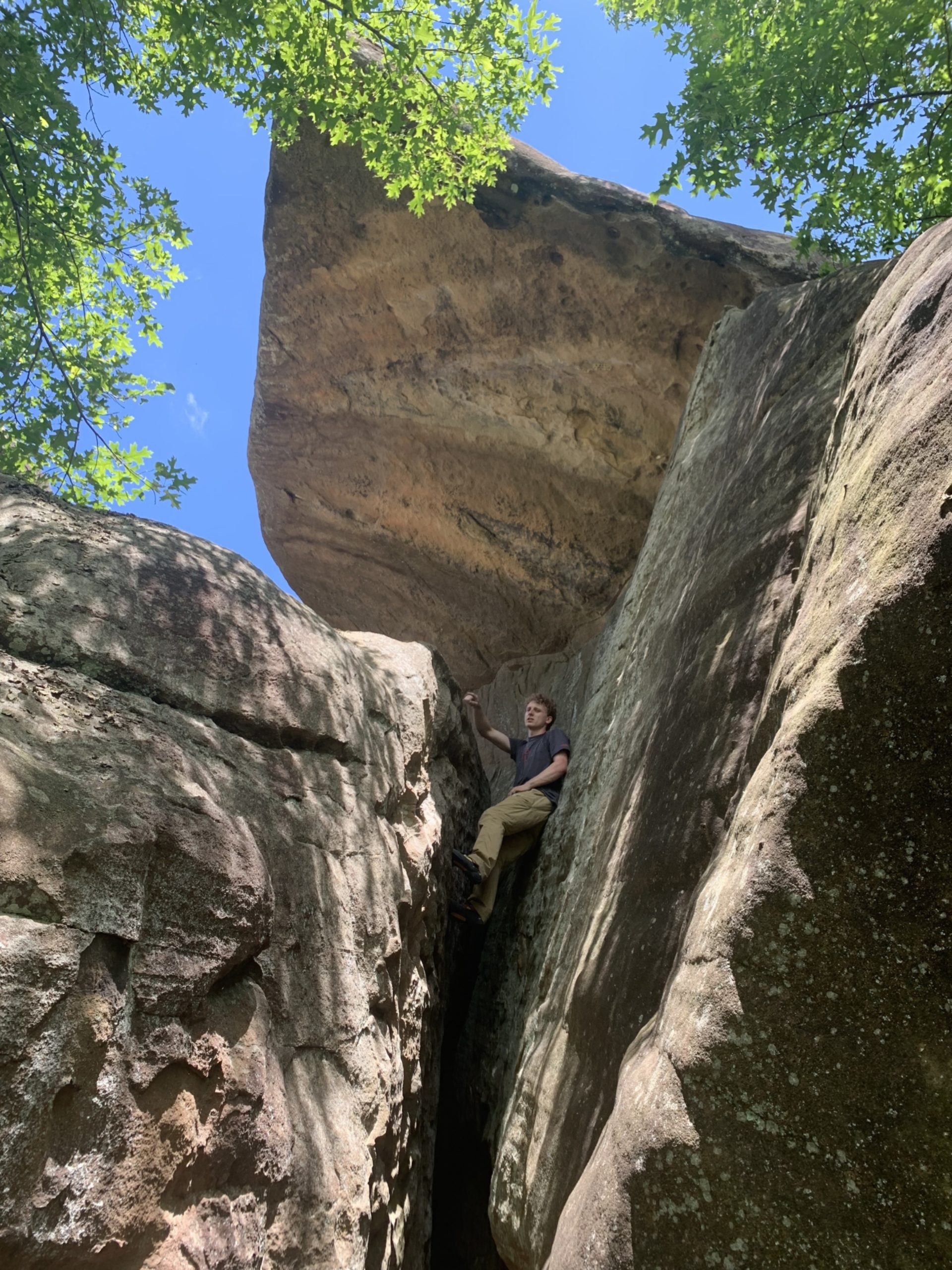 Cameron McCrary
Hey my name is Cameron McCrary. I'm a junior here at the university of Wisconsin Madison studying mechanical engineering. I absolutely love everything climbing! Super excited to make the 2021-2022 Hoofers Mountaineering year amazing !
Gear Manager
Anna Arthur
Hi! I love being outside, whether climbing, kayaking, or hiking. I have been climbing off and on for four years, mostly with my two brothers. I heard about Hoofer's through my older brother and joined freshman year. I love the opportunities it has for me to connect with nature and improve my climbing. I'm a sophomore, and am undecided as a major but am enjoying exploring the different interests I have, including legal studies and sociology. I also love cooking and trying all types of food.
Treasurer
Maggie Keating
Hey everyone! My name is Maggie, and I am the treasurer. I will be graduating in August 2021 with a degree in Genetics and Genomics and a certificate in Gender and Women's Studies. I started climbing a couple of years ago and haven't looked back since! Some of my best memories are climbing trips to the Red River Gorge where I was able to spend quality time outside with my friends. Climbing has been such a big part of my college experience and I am very excited to be more involved in Hoofers Mountaineering this year! Feel free to contact me at treasurer@hoofermountaineering.org.
Webmaster
Ethan Seath
Hi, I'm Ethan Seath and I'm the webmaster! I'm a junior studying Computer Engineering. I've been involve with HMC and have been climbing in general for the past year. I joined hoofers to meet more students involved in climbing and to learn more about outdoor gear. I enjoy trips to the lake and bouldering in town! Outside of climbing I bike and tinker a lot. Feel free to email me with website related questions or general HMC questions!
Hoofer Ambassadors' Liaison
Jack Loken
Hey, I'm Jack, this year's Hoofer Ambassadors' Mountaineering Liaison. I am a Junior studying mechanical engineering and have been climbing for a little over half a year. I began climbing for the first time ever with team last semester. I am very excited to be bringing together Hoofer Ambassadors and HMC to combine social justice with the outdoors and make climbing more accessible for everyone. I highly recommend checking out Hoofer Ambassadors to learn more about what we do on campus and within the community!